What is sciatica?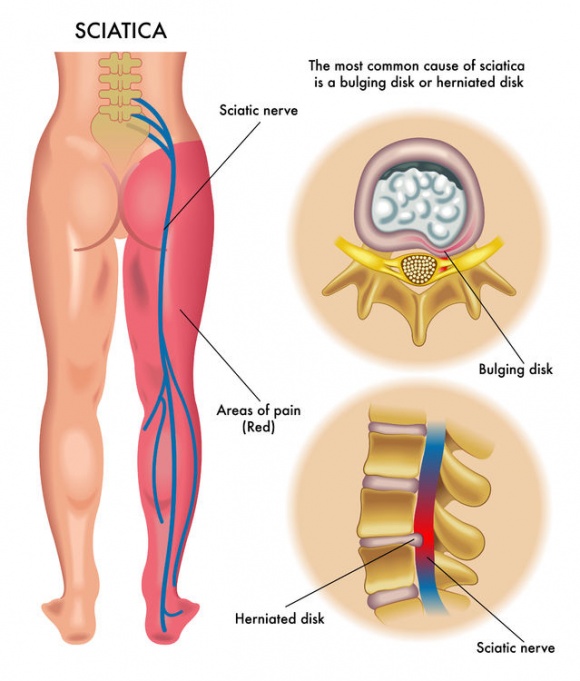 Sciatica is often the pain experienced which travels down the leg. It is a result of compression or inflammation of the sciatic nerve. The most common cause of sciatica (around 90% of cases) is due to disc herniation compression the sciatic nerve. It may also derive from the lumbar spinal facet joints, ligaments and sacroiliac joints.
Sciatica is often used as a diagnosis when it actually just means "pain in the leg" in Latin. That's great if you like big words but not much help if you're wondering what causes your pain. That's where chiropractic comes in.
What are the symptoms?
Low back pain
Deep or burning pain into the buttocks
A feeling of "heavy leg"
Pins and needles in the leg or foot
Who is most likely to suffer from sciatica?
Occupations which involve physically laborious activity and awkward body positions are most commonly affected. Desk workers and anyone leaning over a desk comes next – isn't that everybody? More and more younger people are becoming affected as sedentary lifestyles start to harm the owners of those lazy bodies.
How can chiropractic care help?
Conservative therapy is recommended as the first line of treatment for sciatica.  At Michael & David Black Chiropractic Group, Dr. Michael Black will use a variety of methods with the aim to reduce your symptoms of sciatica.
Private health funds cover chiropractic care and some patients qualify for a Medicare EPC referral if they have a long-standing problem. Chiropractic care has been seen to relieve sciatica for many people without the common side effects of taking drugs. If in doubt about your sciatica, don't hesitate to contact us at Armadale Chiropractic Centre or Manningham Road Chiropractic Centre.