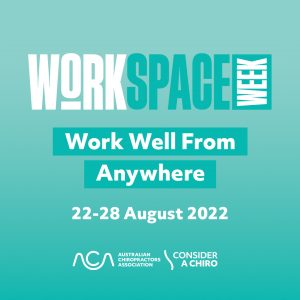 During national Workspace Week, Michael & David Black Chiropractic Group encourages safe workspace practices when working remotely.
Workspace Week is 22-28 August 2022 – Work Well from Anywhere! Today, Michael & David Black Chiropractic Group announced they're throwing their full support behind national Workspace Week (22-28 August 2022) to help increase awareness of the importance of working safely in an ergonomic set up to help prevent unsafe workspace practices when working from home.
An initiative of the Australian Chiropractors Association (ACA), national Workspace Week aims to educate Australians about the importance of postural correctness when working from home to help avoid potentially serious injuries that may be caused by working in a non-ergonomic workspace.
Due to living with COVID-19 for the past three years, the majority of Australians have worked in hybrid settings shared between home and office locations with new data revealing they may be risking their health by not working in ergonomically correct workspaces.
Dr. Michael Black, Chiropractor, said, "With more Australians working from home than ever before, it's important for those using computers at home who are not correctly set up in an ergonomic workspace, to be aware of the risks and make some changes. By making some simple but effective changes to the way we work at home, we can all improve our spinal health and overall wellbeing so we can work well from anywhere."
Following the survey conducted by the ACTU which found 42% of Australians working from home did not have a suitable workstation or the correct equipment; and the Federal Government's announcement in August 2021 that up to two-thirds of Australians were still working from home, the ACA undertook two national surveys to evaluate the risk factors and develop solutions.
The results were alarming, revealing that a large number of Australians may be putting their health at risk due to home workspaces not being set up correctly.
ACA President, Dr David Cahill welcomed the support of Michael & David Black Chiropractic Group saying, "While a by-product of the pandemic has seen working from home become the norm, the results of our recent surveys show alarming statistics that many Australians are yet to adjust to this 'new normal' and may be risking their health because they haven't adopted safe work habits at home."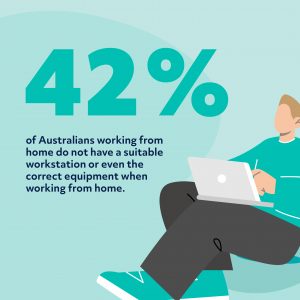 "By implementing simple steps to ensure an ergonomic workspace including using an ergonomic office chair, adjusting a laptop to eye level; and positioning the knees slightly below the hips when sitting, everyone can develop positive spinal health habits that may prevent spinal health problems when working from anywhere."
"Everyone can participate in national Workspace Week to minimise health risks to their spine, neck, and lower back and maintain overall physical and mental health and wellbeing and we're urging everyone working from home to get moving and download our recently developed free resources to learn how to manage their workspace better," he said. "The Workspace Checklist can assist people to work safely in an ergonomic setting, while using the Straighten Up App to improve posture, stabilise core muscle groups, prevent spinal disability and enhance their overall health and wellbeing."
For more information about Workspace Week, to download the Workspace Checklist and free Straighten Up App or to locate your local ACA chiropractor, visit workspaceweek.org.au. #WorkWellAnywhere – #WorkWellFeelGreat
REFERENCES
Baxter J., Brown L. 2021, 'Two-Thirds of Australians Are Working From Home', Australian Government, Australian Institute of Family Studies, accessed 17 June 2022, https://aifs.gov.au/media-releases/two-thirds-australians-are-working-home
Australian Unions, 'Working From Home', accessed 17 June 2022, https://www.actu.org.au/media/1449319/au_workingfromhome_p1.pdf