The Iliotibial Band (ITB) is a thick band of fascia or fibrous tissue that runs on the lateral aspect of the knee, extending from the outside of the pelvis, over the hip and knee, and inserting just below the knee. Some of the buttock and hip muscles attach to it and the ITB co-ordinates how these muscles work and stabilises the knee.
Iliotibial band syndrome is one of the leading causes of lateral knee pain in runners. The band is crucial to stabilising the knee during running, as it moves from behind the femur to the front of the femur during activity. The continual rubbing of the band over the lateral femoral epicondyle, combined with the repeated flexion and extension of the knee during running may cause the area to become inflamed.
Iliotibial Band stretches can make a big difference to back, hip and knee problems.
Basic Stretch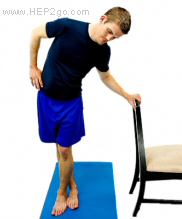 Intro: This is my favourite of all the iliotibial band stretches and a common one.
Starting Position: Stand upright with support of a chair or wall and cross your right leg behind your left.
Action: Lean slightly forwards and to your left side until you feel a stretch on the outside of your right leg. Hold for 30 secs
Repetition: Repeat 3 times, 2x daily, or before and after exercise
Progression: Place your hands on your head whilst doing this to increase the stretch
Wall Stretch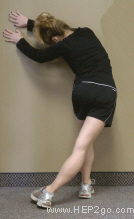 Starting Position: Start as with the first exercise but cross your right leg further over behind you to the left. Place you hands on your head or lean on a wall for support ensuring your hands are above your head as this increases the stretch.
Action: Lean to the left whilst gently gliding your hips to the right until you feel a stretch. Hold for 30 secs.
Repetition: Repeat 3 times, 2x daily, or before and after exercise
Notes: People often find that they feel more balanced and in control by using the wall for balance
Side Lying Stretch
Starting Position: Lie on your left side at the edge of a bed/table with your bottom knee bent
Action: Move your top (right) leg backwards so it hangs down over the edge of the bed. Gradually try and let the right leg drop down more to increase the stretch. Hold for 30 secs
Repetition: Repeat 3x, 2x daily
3 Basic Stretches on Video